Herbs are great for your health, and also lots of fun to grow, if you grow them yourself. You can start your own herb garden indoors, especially if you have a windowsill that gets plenty of sunshine and air. As the weather gets cooler, it would be a great time to start your own indoor kitchen garden. Herbs are great for a quick salad and also for cooking. You can grow a variety of herbs and vegetables indoors that require minimal care and give you great results.
What you'll need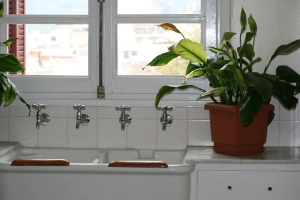 You can keep the growing season going all year round in your indoor herb garden; all you need is a suitable place in your house, some pots or containers, some potting soil and seeds, and you will be ready to grow your own herbs. Some herbs will need additional lighting, but most crops will do just fine with the sunlight they'll get through the window. To make sure that you grow large enough plants for cooking, you need to make sure that you have large enough pots and enough space to keep your pots. You should have pots at least six inches deep and six inches wide for individual plants. If you are planning on growing multiple plants in the same container, choose long containers.
Starting from seed will not require large containers, any small container will do. You can move them later when they reach the proper height. Your pots need to have water holes under them for drainage. Place a saucer under them, so you don't ruin your windowsill or furniture.
Selecting the right spot
Choose a windowsill that gets at least 4-5 hours of sunshine every day. Be careful not to kill your young plants with too much sunlight. You might have to move your containers around so that they get just the right amount of sunlight. A south or southwest facing window is perfect. If you do not get enough sun, arrange some artificial light. Without enough sunlight, your plants will not grow healthy.
Selecting the potting soil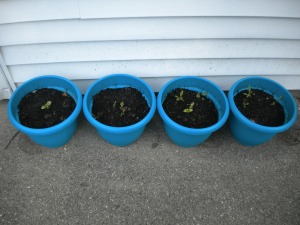 You need to fill your pots with high quality potting soil. Using a light potting soil mix is ideal for indoor plants, as they are easily drained. You can also use regular soil from your garden and mix it with some organic compost or fertilizers, and prepare your own potting soil if you don't mind getting dirty. You will need to loosen up the soil, separate all stones and unwanted stuff from it to make the soil soft. Your potting soil needs to be high in nutritional value. Your kitchen waste would make perfect compost for your pots. You can easily prepare your own organic fertilizer using your household waste. You can also choose to buy potting soil from your local garden supply stores. Use a layer of 2-3 inches of light soil mix at the bottom of the pot.
Purchase plants
The best way to start your indoor garden is with plants from a nursery. Growing plants from seeds is a cheaper alternative. However, starting from seeds will take more time and require more attention from you. Purchase herbs that don't grow too tall or too wide. Basil, chives, parsley, lavender, rosemary, mint, and thyme will do pretty well indoors.
Placing your plants
Carefully remove the plants from their original container which they came in, loosen the roots, and place them in your new containers. Gently fill your pots with soil, leaving at least an inch from the top for watering. Firm your soil around the plants. Water the plants to help them settle in. Avoid putting too much water, plants don't like sitting in wet ground.
Feeding your plants
Use organic fertilizers for your plants, labeled for edibles, every other month. Use half the recommended strength, or you may lose the original flavor of the herbs. (How to Grow Herbs Indoors on a Sunny Windowsill)
Follow these simple steps, and you'll have your own sustainable indoor herb garden, growing all year round. Good luck!
Source: Institute of Ecolonomics